Secure your information flow on every computer with KeyScrambler Premium
See better data security for your business.
As early as December, 2006,
four months after KeyScrambler's initial release, Laptop Magazine featured an interview with Ken Dunham, director of the VeriSign iDefense Rapid Response Team, about the increasing threat of keylogging.
The Editor: "Is there a way to prevent keylogging?

Mr. Dunham: "QFX Software's KeyScrambler is a recently released plug-in for Internet Explorer that encrypts user's keystrokes at the kernel driver level, before keyloggers can record them."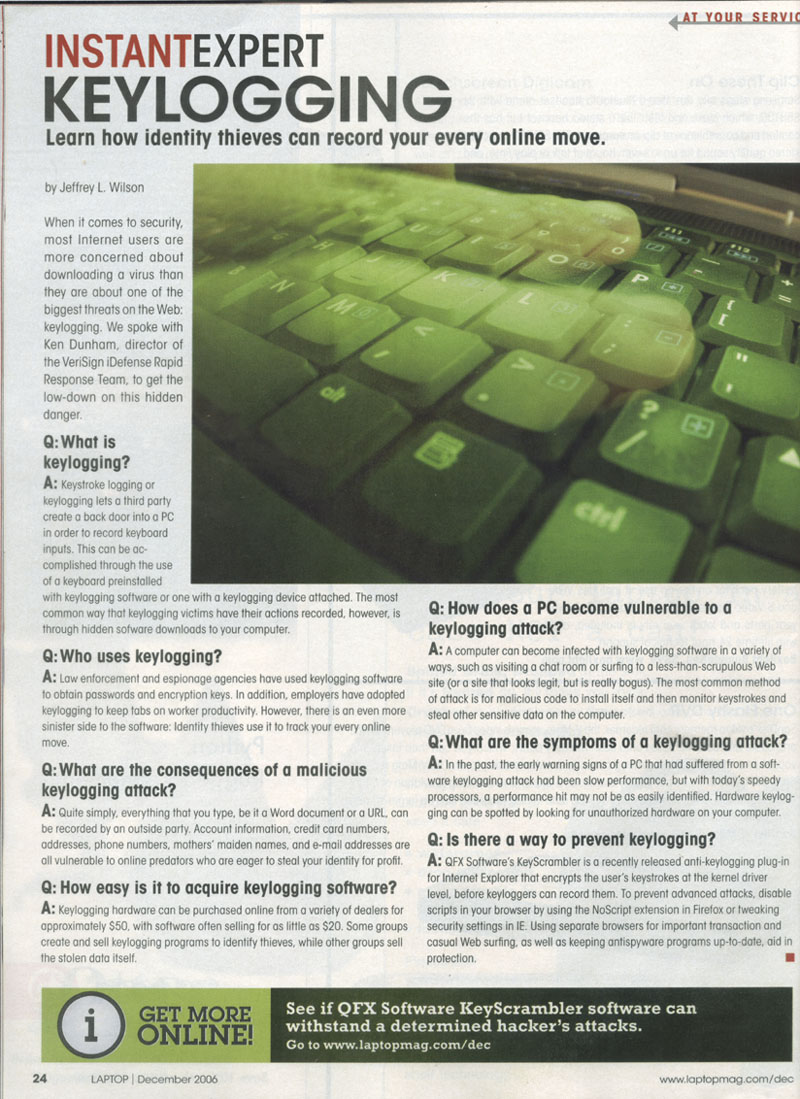 Since then, for 16 years, KeyScrambler has proven to be the most effective way against keylogging/malware attacks.
KeyScrambler the Recognized Best Since 2006
"Kate Russell's weekly review of the best apps and websites" -- BBC News
"The best Internet Explorer security add-ons" -- CNET
"The five best free privacy software options for 2015" -- Techradar
"8 Essential Privacy Extensions for Firefox" -- PCWorld
KeyScrambler encrypts in real time every key the user types deep in the kernel of the operating system. KeyScrambler Premium supports Windows 11, 10, 8.1, etc. (32-bit and 64-bit versions), all Windows Store Apps, most browsers and hundreds of standalone applications essential for enterprises of all sizes, in areas of communication, office, finance, password managing, creativity, cloud, and a whole lot more.
The ever-increasing cyber attacks on businesses and the vulnerabilities of security suites have led to security experts' repeated pleas that enterprises must build multi-layered defense systems for greater computing security.
How and Why KeyScrambler Premium will buttress your security system
Keylogging tops malware threats.
Recent years have witnessed a steady rise of keylogging malware threats. Since 2012, a keylogging component has been found in nearly all cyberattacks and data losses.
All hacks and breaches begin with a piece of identifying information.
None of the data breaches, data base hacks, Web application attacks, or phishing could have succeeded without the help of a stolen password or a stolen identity, most often done through keylogging.
Security suites are still most vulnerable to in-the-wild malware.
To this day, the detect-and-remove method of security suites is still ineffective in dealing with attacks by new, unidentified malware. Security suites are still vulnerable to in-the-wild malware/keylogging attacks.
Cyberattacks have been focusing on enterprises in recent years.
Cyberattacks cost businesses billions of dollars every year, with losses in productivity and revenue; in organization, customer and employee data; and in brand reputation.
KeyScrambler Premium secures your typed keys.
Since its launch in 2006, KeyScrambler has been used by more than a million users and its inventive key encryption technology has proven to defeat even the most insidious kind of keyloggers and keylogging malware.
KeyScrambler Premium protects critical places with sure encryption.
KeyScrambler Premium encrypts in real time every of your typed keys in Windows logon, Domain logon, Windows Command prompt, and Vista's User Account Control prompts (UAC); in all browsers; on millions of websites; and in hundreds of independent apps. KeyScrambler Premium effectively cuts down on data theft, system-wide data breaches and network intrusion.
KeyScrambler Premium defeats known and unknown keyloggers.
KeyScrambler's innovative method and smart engineering combined to give KeyScrambler the unique capability of protecting users' information even on security compromised computers. KeyScrambler defeats new, in-the-wild keylogging malware as effectively as it defeats the old and known.
Add KeyScrambler Premium to your security stack and see keylogging troubles melt.
Customized for group deployment, KeyScrambler Premium takes only a couple of minutes to install on multiple computers, requires little maintenance and support, and is hassle free and cost-effective for your IT department.
KeyScrambler Premium -- Easy to Add, Easy to Use
Ready for greater
Online Security?
Invest in KeyScrambler Premium.
KeyScrambler Premium currently costs $44.99 (regularly $79.99) per license, for installation on 3 computers. Suppose your company has 300 computers, so you'll need 100 licenses. And your cost is:
$44.99 x 100 x 0.8 (20% volume discount) /300 (computers) = $11.99 (per computer)
Since KeyScrambler Premium requires neither user effort nor any change to your infrastructure, your spending on IT staffing, training, and maintenance is $0.00.
Having KeyScrambler Premium running on all your computers, you'll see:
Reduced risks of data/information loss and theft
Reduced risks of system-wide breaches and network intrusion
Reduced disruption and therefore reduced costs in damages related to data/information loss: productivity, revenue, customer confidence, employee morale, and brand reputation.
For only $11.99 per computer, your whole company will be protected all the time from known and unknown keylogging and malware attacks. By adding KeyScrambler Premium to your security stack, you'll be able to cut down on data/information loss and theft, which will in turn translate into your financial gains in many ways.
Now you know your investment in KeyScrambler Premium is sound. Very sound.
All group licenses will enjoy tiered volume discounts. Additional discounts are given to educational and non-profit institutions.
Contact us today for a pilot program or a free quote!